Please select from the list of services below:
How old is your electrical wiring?
Are you worried about its present condition?
Is your electrical wiring safe for its continued use?
Additional appliances in our homes have increased dramatically over the years with new accessories such as Dish washers, Electric Showers, DVD players, Satellite boxes, Xbox and Play Stations to name just a few.
WARNING!
With the ever increasing demand for power from modern appliances, an old electrical system could be at risk from overloading, regular power loss, and more importantly a FIRE.
Cables and accessories deteriorate with age and usage. Corrosion can set in, and cables can become very brittle making them unsuitable for their designed purpose.
Overloading of circuits can be caused by dangerous wiring that has been added to an installation over the years by untrained personnel and without any prior knowledge to the current property owners.
It can be easy to make something work but it takes a professional to make it safe!
Some signs of an older electrical installation include: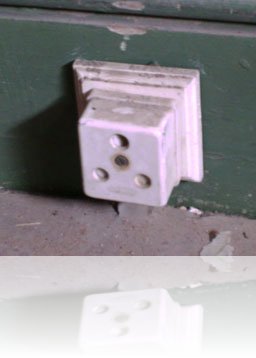 ■ Old wooden fuse boards with wooden backs
■ Cast iron switches
■ Cables that are coated in black rubber (TRS) 1945 – 1966
■ Lead sheathed cables installed pre 1948
■ Fabric sheathed cables installed pre 1948
■ Round black Bakerlite switches
■ Braided flex cable from ceiling rose light fittings
■ Old round pin sockets (pictured)
■ Socket outlets mounted on skirting boards
■ Old rewirable fuses
■ Double pole fusing pre 1950 – some circuits had a fuse in both live and neutral
If your installation has any of the above signs or you are concerned for its safety, then it is time for an upgrade!
The best way to determine the current condition of an electrical installation is to have a Periodic Inspection and Test Report completed. This type of electrical report is often carried out before a rewire where there is uncertainty or concern over the existing condition of the installation.
What Test It Electrical can do for you…
■ Assess the present condition of your installation see Periodic Inspection and Test Reports
■ Provide you with a written detailed quotation
■ Design, Install and Test your new electrical installation
■ Notify the Local Building Control Authority on your behalf
■ Issue you with a completed BS7671 Electrical Installation Wiring Certificate for the work
---
Make your home a safe home!
call us today on 0792 559 3061 for a free estimate
On completion of our work our electrician will issue an Electrical Installation Certificate for the work that has been carried out.
Please note that from 1st January 2005 most electrical work carried out it Dwellings and Flats (including Gardens) will require notification to the Local Authority Building Control for compliance with PART P electrical safety of the Building Regulations.
We can arrange a LABC notification for you absolutely free! – Call us now!
For further information about PART P see FAQ – PART P